We honor Memorial Day with an image of our 7th Grade students who visited the Gettysburg Battlefield on Friday. They stand in front of the Eternal Light Peace Memorial, which was dedicated by President FDR in 1938. Let us remember those who courageously gave their lives. #WGProud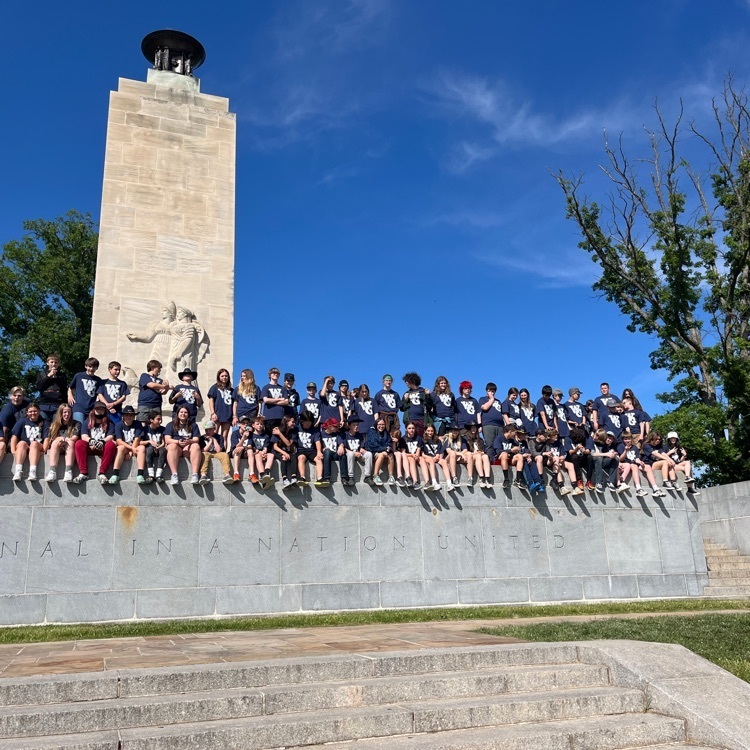 Today is the BIG day in the The Glen! Polls open for the annual budget and Board vote at Noon in the BOE Room on the north side of campus. Doors open for our annual PK-12 Art Show at 5:45PM in the High School Auditorium lobby. Our HS Concert begins at 6:30PM! #WGProud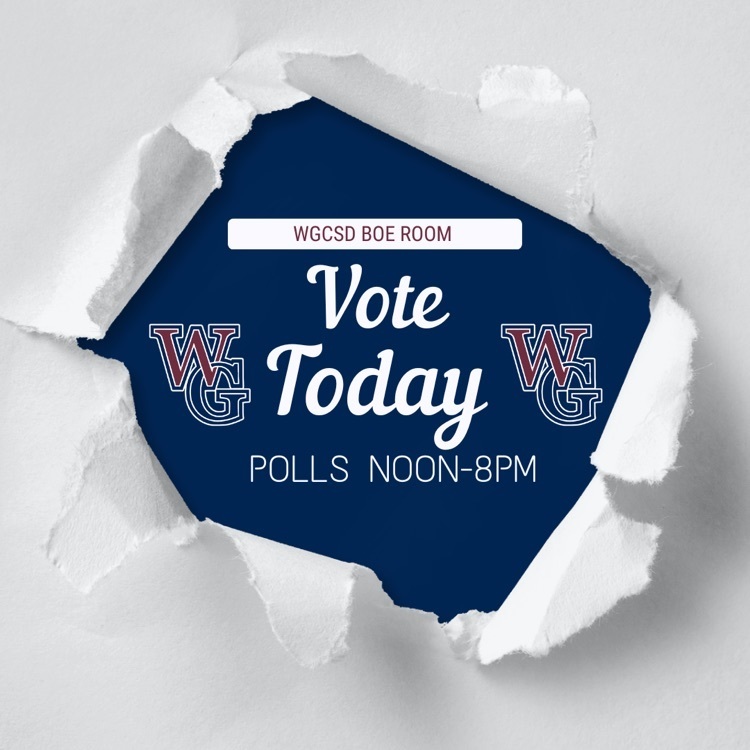 Tuesday, May 16th is a BIG day in the The Glen! Polls open for the annual budget and Board vote at Noon in the BOE Room on the north side of campus. Doors open for our annual PK-12 Art Show at 5:45PM in the High School Auditorium lobby. Our HS Concert begins at 6:30PM! #WGProud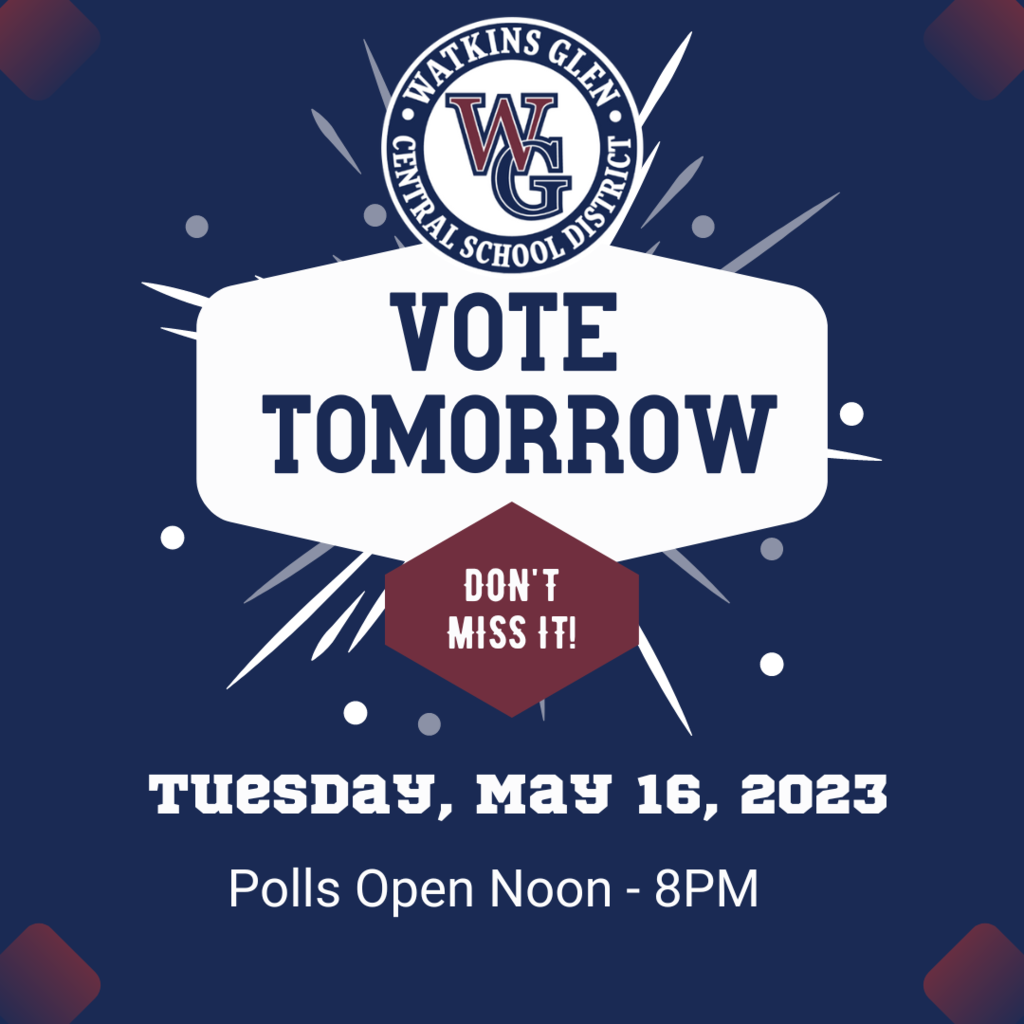 Happy Mother's Day to all of the WG moms out there! Have a wonderful day! #WGProud

Big thank you and shout out to @WGI for making sure these six members of the Class of 2023 get to and from prom safely! Our seniors and local partnerships make us #WGProud Thank you Watkins Glen International!! Photo credit to WGHS Principal Mr. Colunio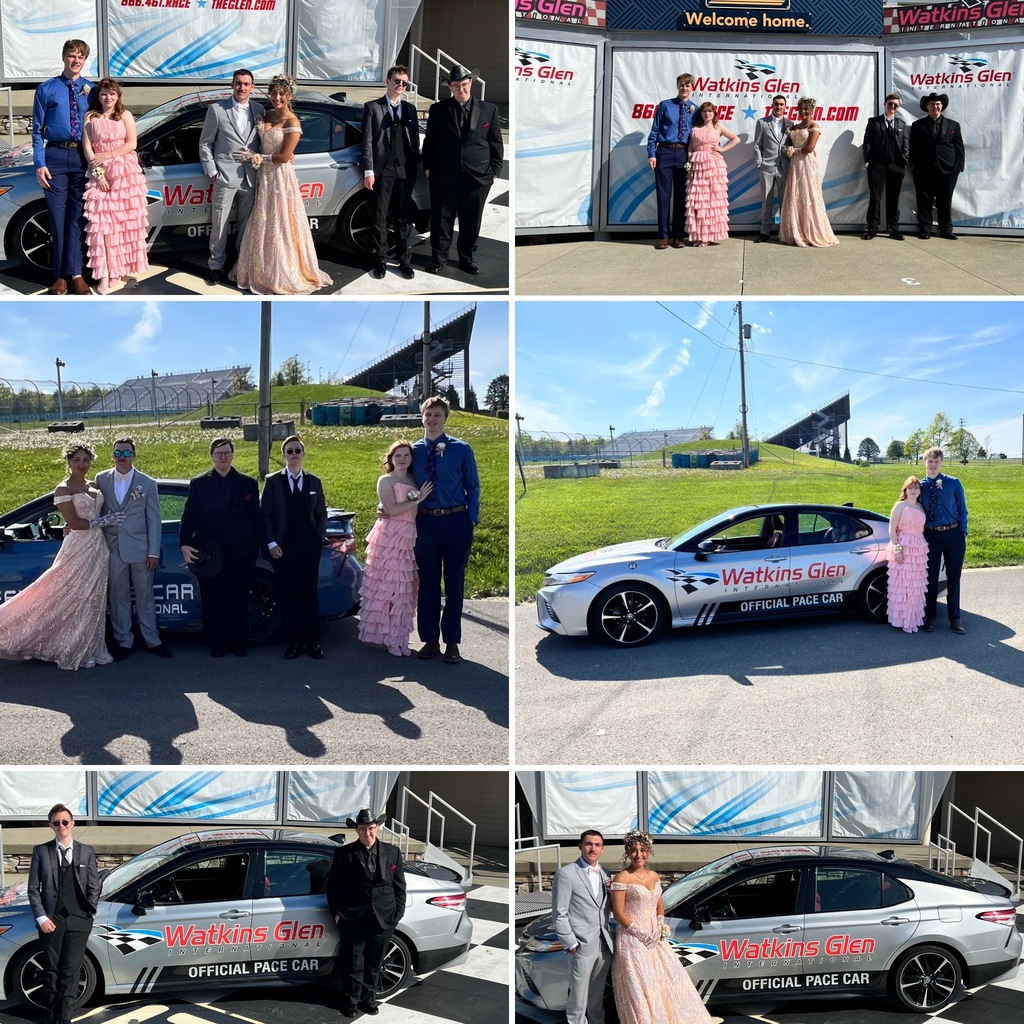 Reminder: Eligible voters in the WGCSD School Community can vote on the proposed budget & board of education nominees in the WGCSD Board of Education Room on 5.16.23 from Noon-8PM. More information can be found at
www.wgcsd.org
. #WGProud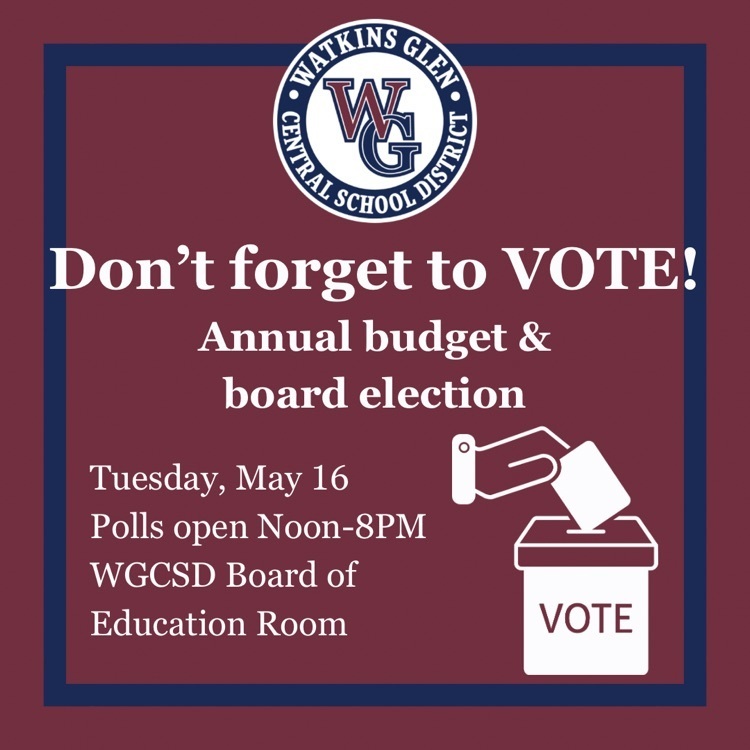 Reminder: Eligible voters in the WGCSD School Community can vote on the proposed budget & board of education nominees in the WGCSD Board of Education Room on 5.16.23 from Noon-8PM. More information can be found at
www.wgcsd.org
. #WGProud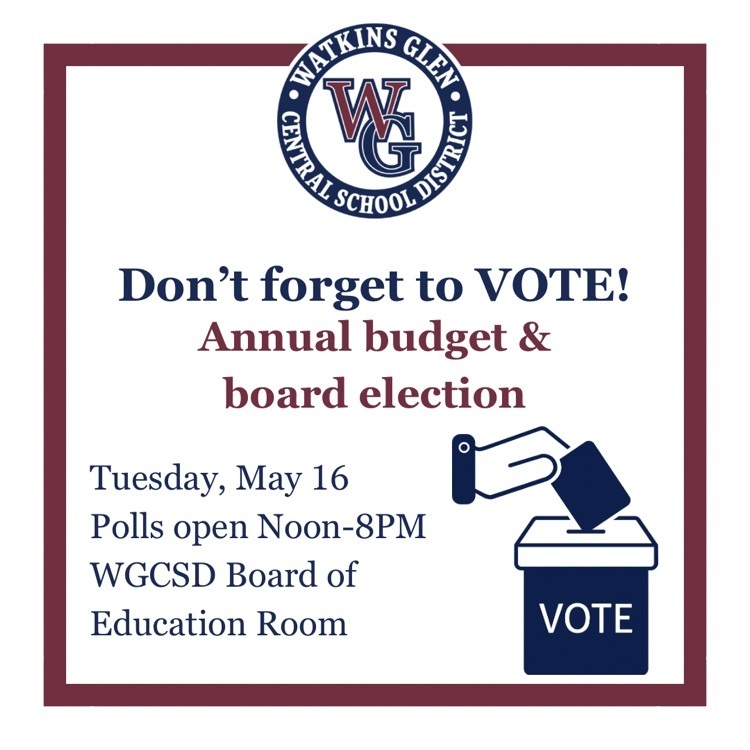 As we embark on Teacher Appreciation Week 2023, we want remind everyone that our teachers make us #WGProud Thank you to the dedicated teachers of the Watkins Glen Central School District! They make a difference every day! THANK YOU for all you do!

We are still hiring! Stop in and see what makes us so #WGProud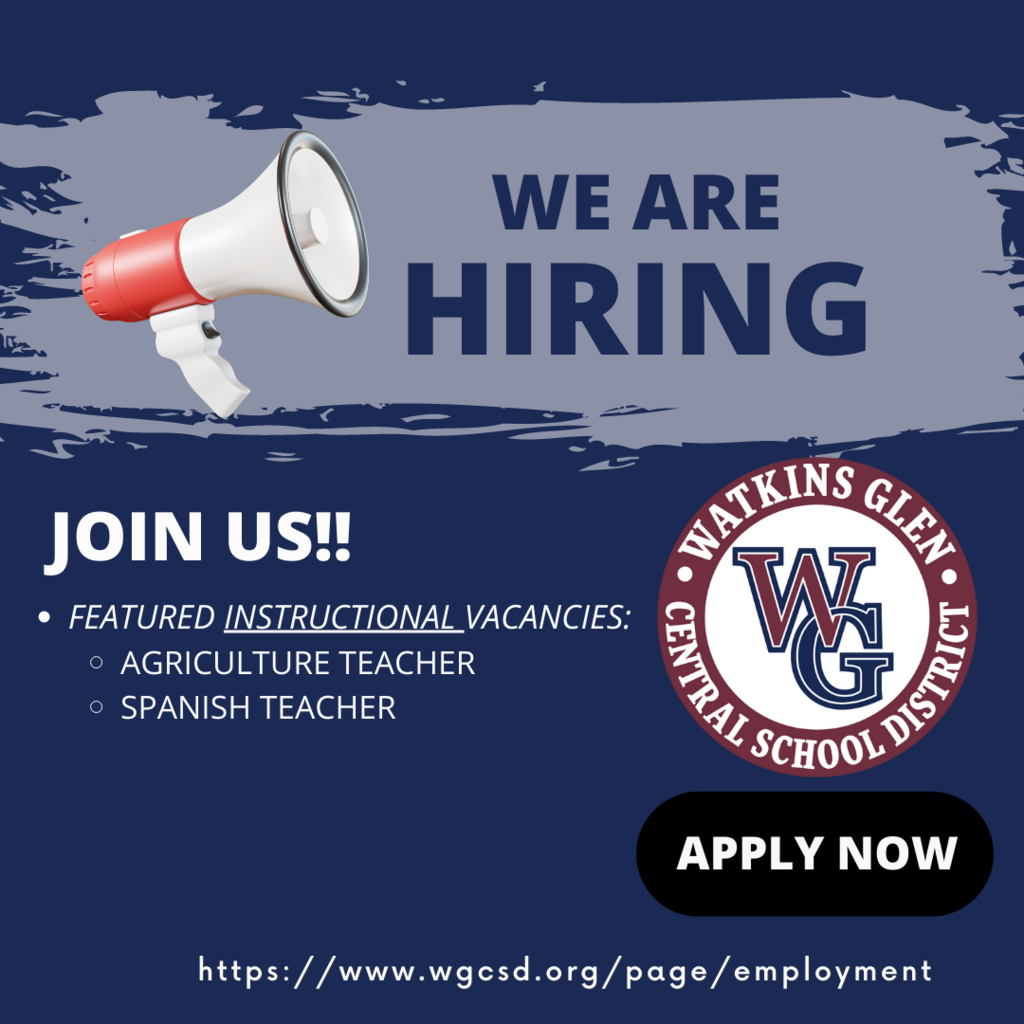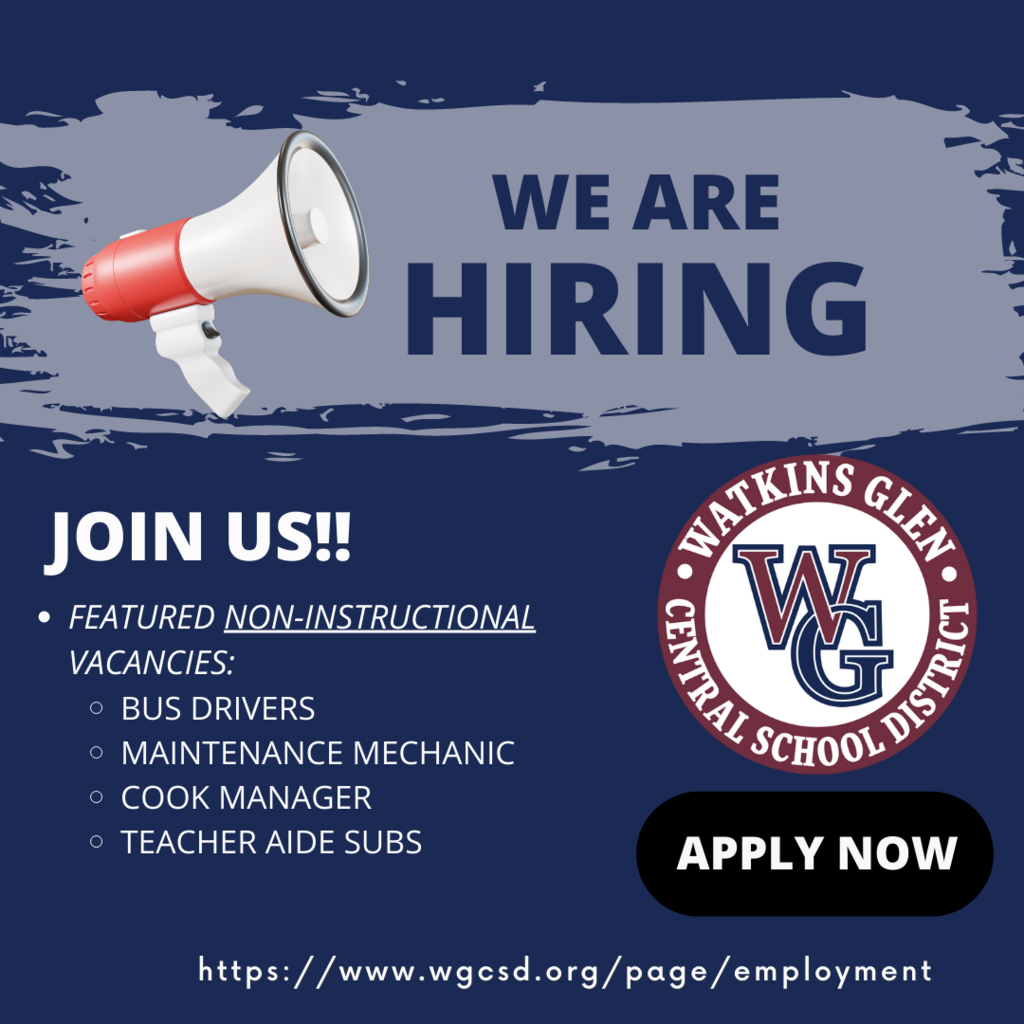 This week it was our pleasure to recognize some of our senior student athletes! The Class of 2023 continues to make us extremely #WGProud (photo credit to the Odessafile)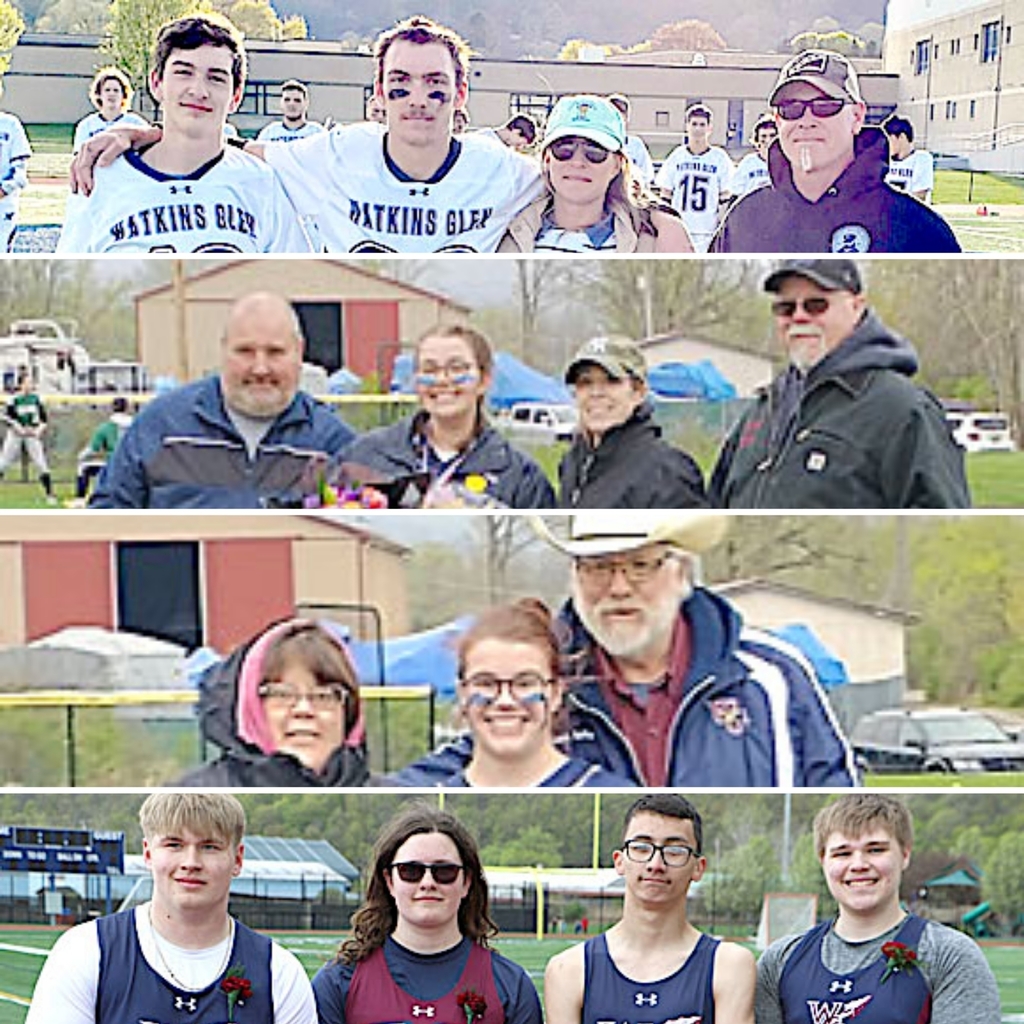 Our 7th graders visited @corningmuseum and @Hilliard1905 yesterday! Experiences like this and our regional partnerships make us #WGProud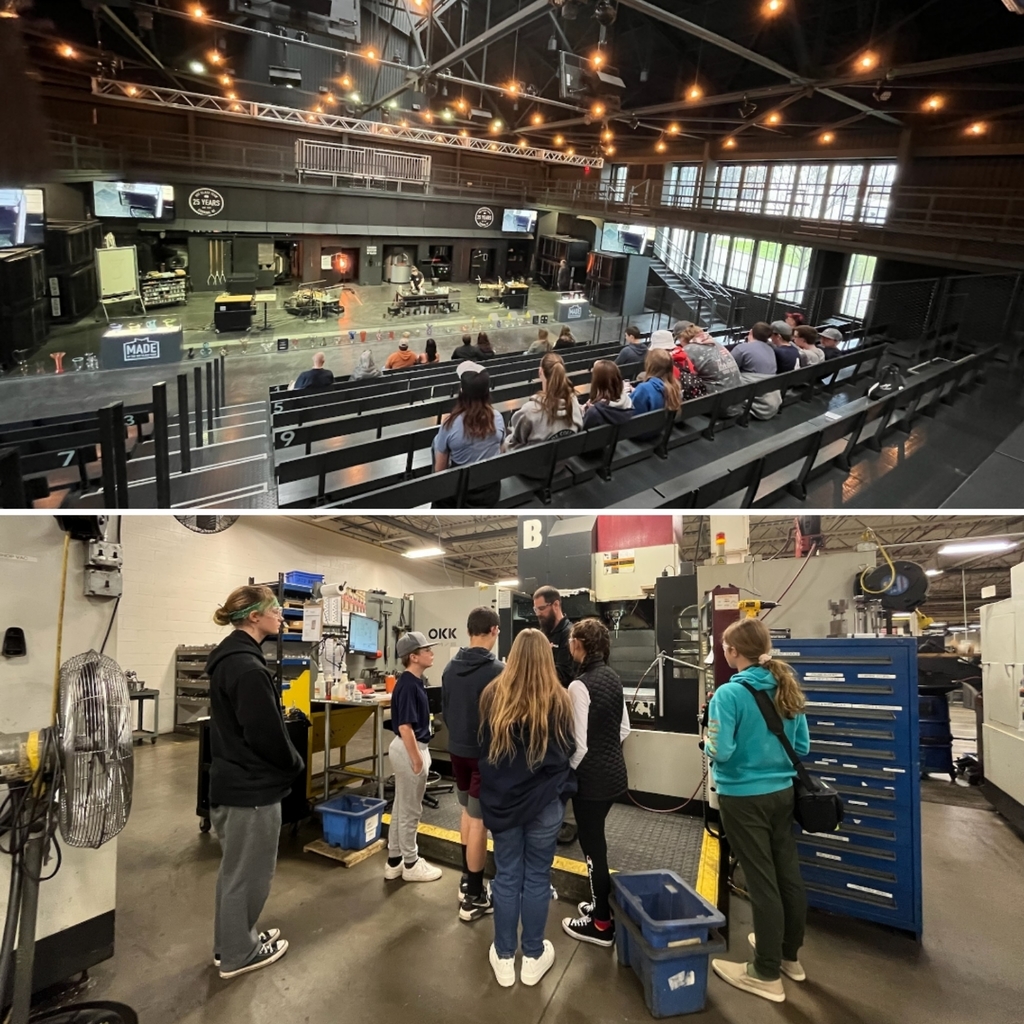 Congratulations to our @Rotary Senior Student of the Month! Jason and the Class of 2023 make us @WGProud (photo and story courtesy of the Odessa File)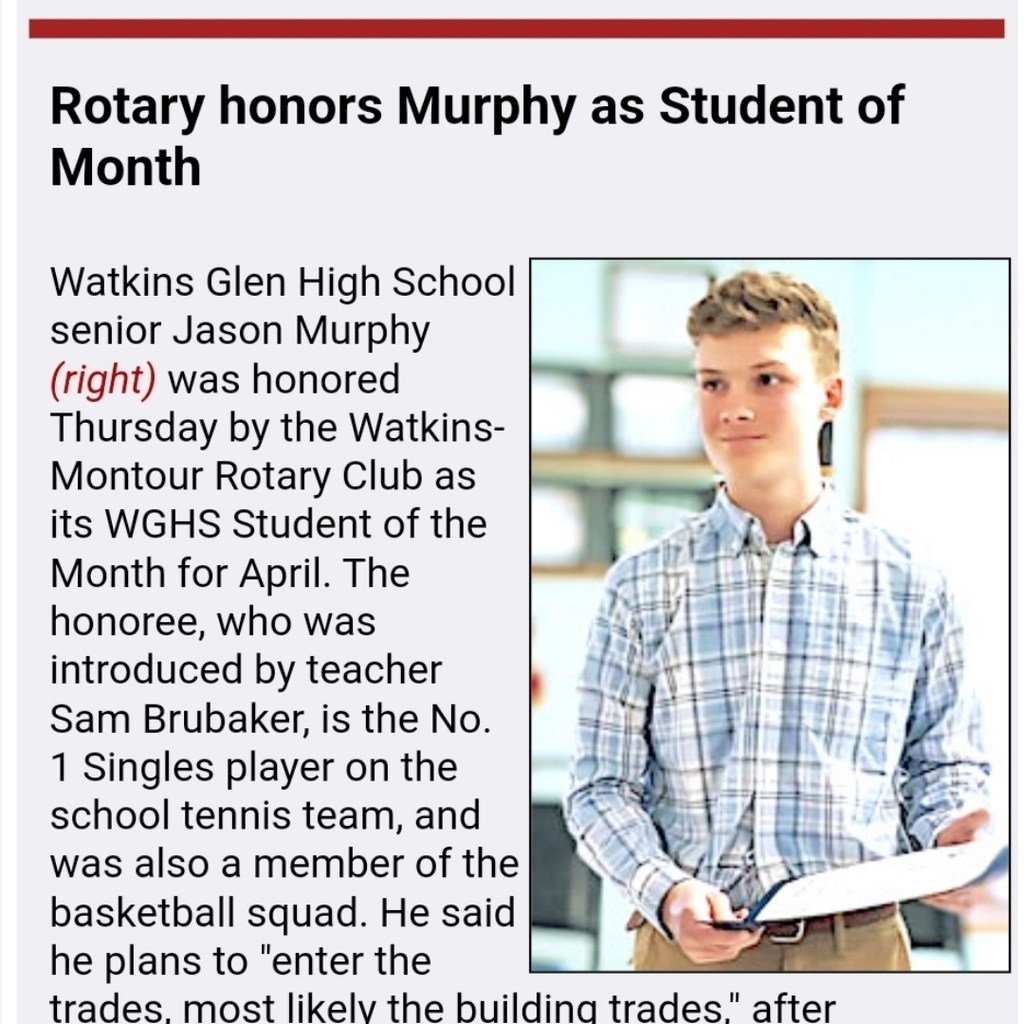 Our Tennis Team makes us #WGProud BIG congrats to our Tennis Student-Athletes as they remain undefeated this Spring!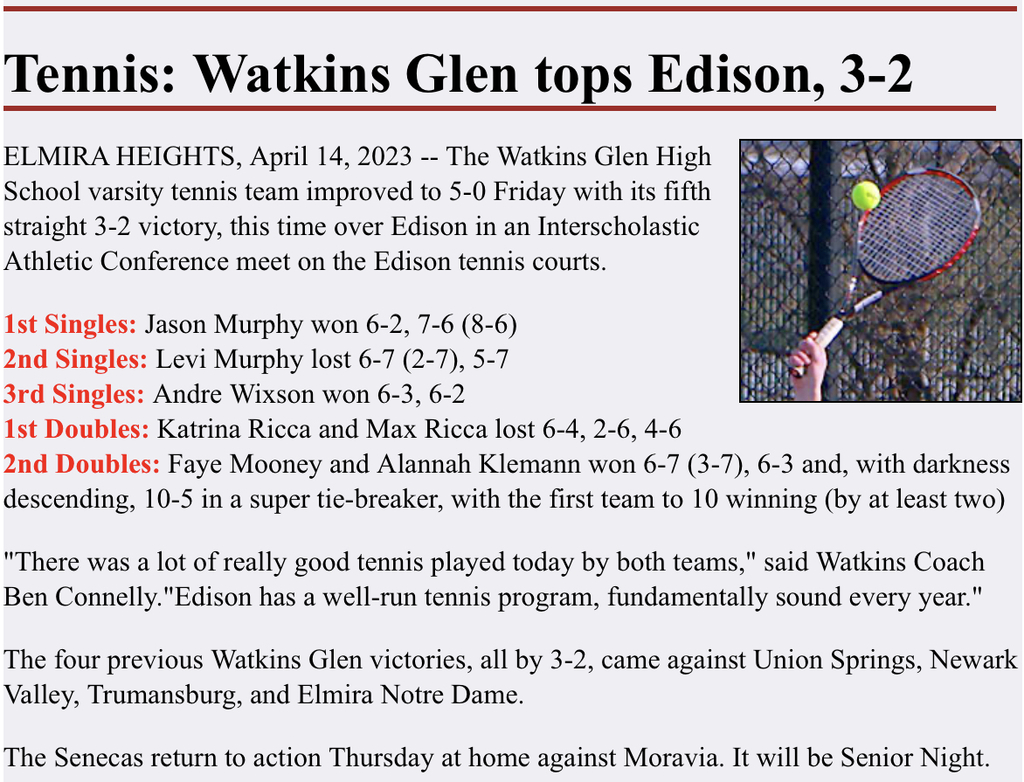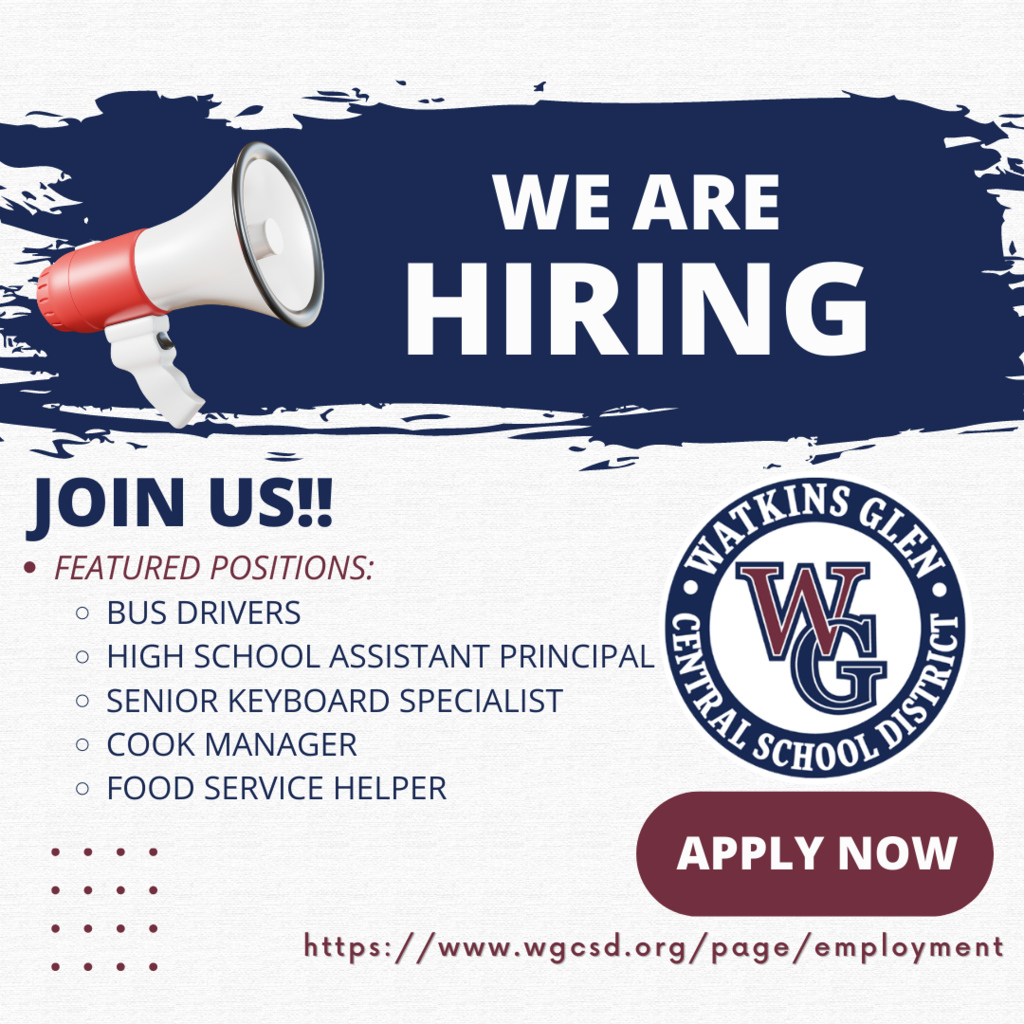 The WGHS and Career Development Center will be hosting their annual College & Job Fair May 11th! Local Employers, private and SUNY colleges, and hiring hospitality positions in our area will be showcased. Bring a well written and structured resume with you and provide a copy for an interested prospective employer or college. Save the Date!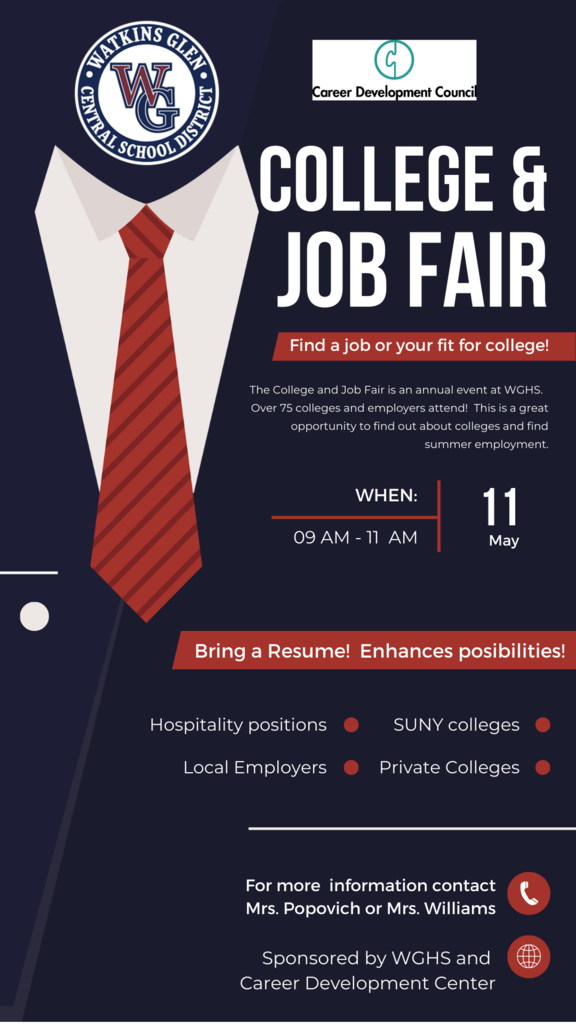 Mock Interviews are coming to WGHS for our ACE FYEX students! Do you have the skills to be a successful interviewee? Do you know what interviewers look for in potential new hires? This will be a great opportunity for the ACE FYEX class to try out on some MOCK Interviews. Get some tips, tricks and lessons to becoming a good interviewee.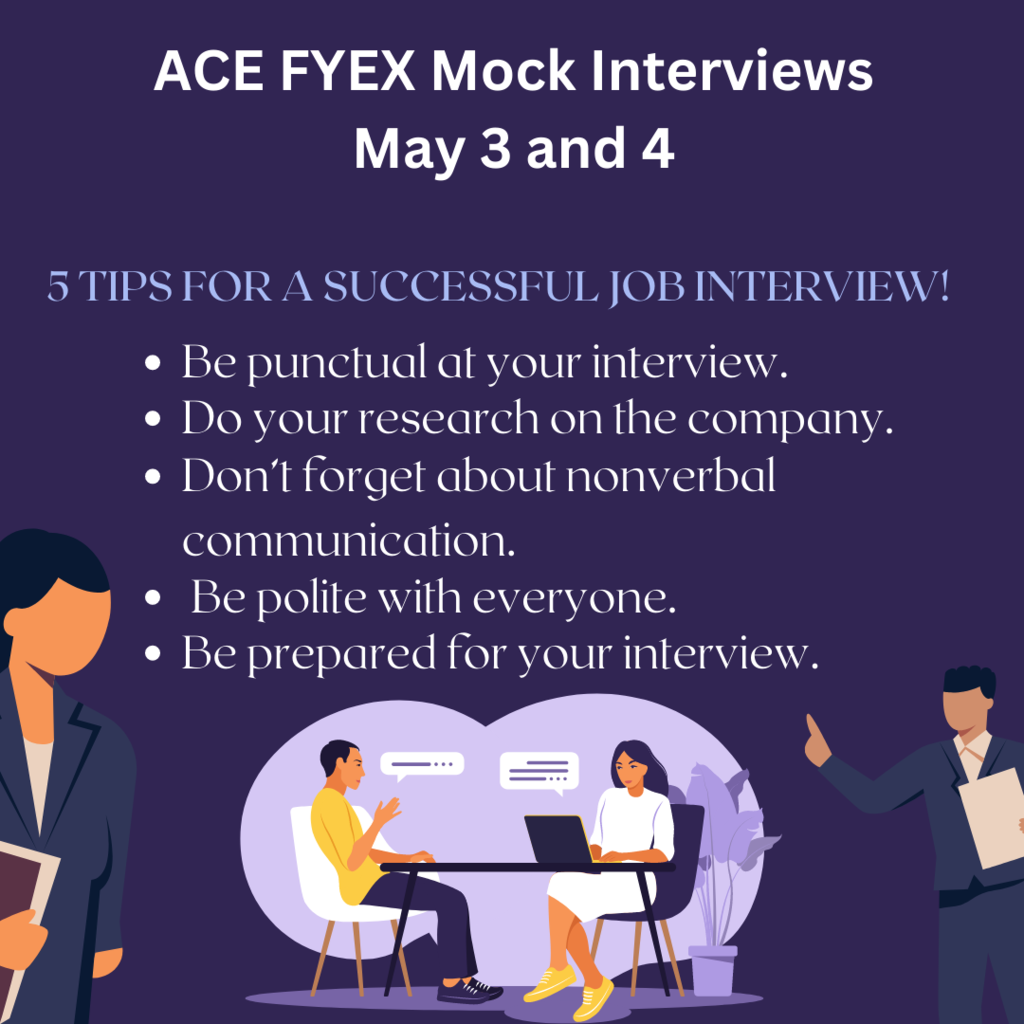 Shout out to the WG building leaders and food service department for serving an awesome holiday feast for our students!! #WGProud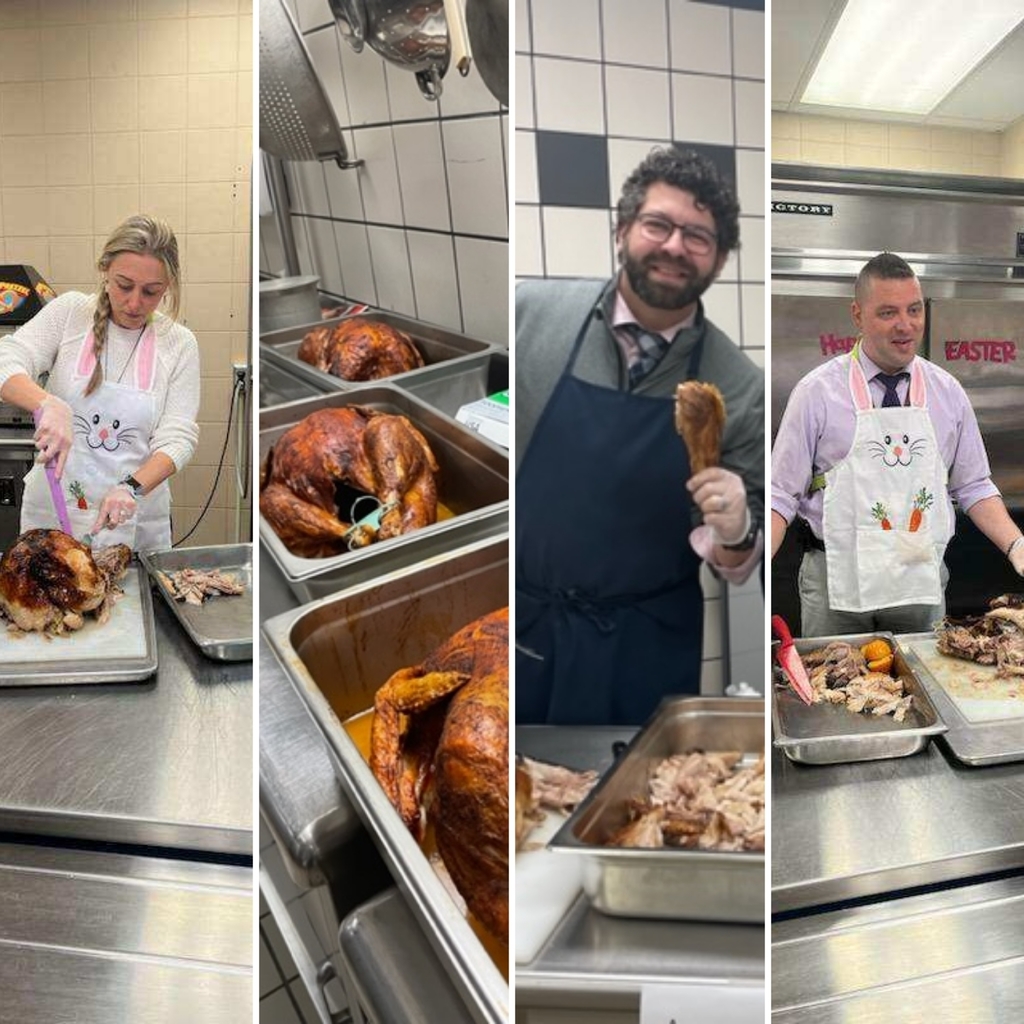 Congrats to WGHS 7th grader, Kassitie Clugstone who worked with Mr. Scruggs from the Moose to organize a Spaghetti Dinner! They earned $1600+ towards the 7th grade service project. All proceeds will be donated to Schuyler Food Pantry & St. Jude's Children's Research Hospital.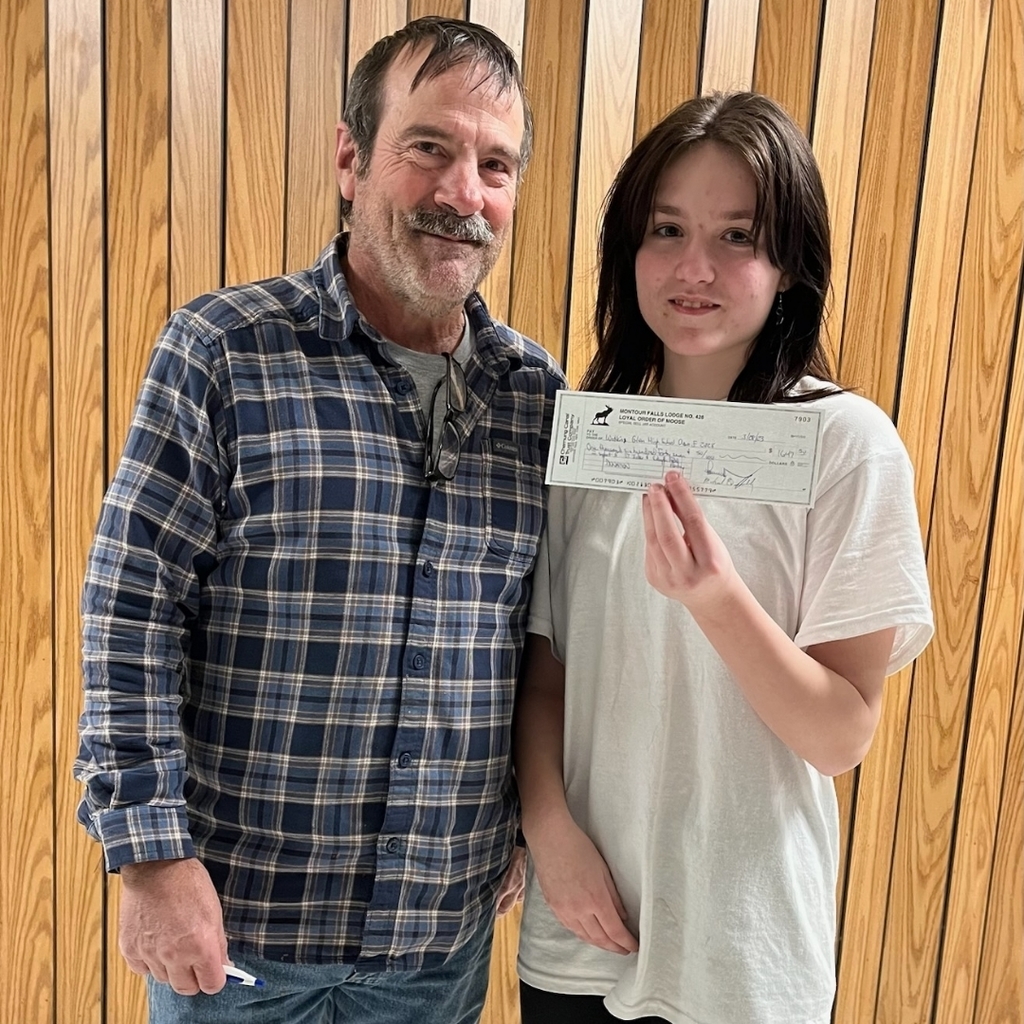 The Senior Play ends its 3 day run today with curtain at 2:30pm. Come out and support seniors Sarah, Kai, and Ann as they perform the classic Wizard of Oz. Shout out to Michelle and Tim Benjamin for directing a GREAT show that makes us #WGProud (photos from the Odessafile).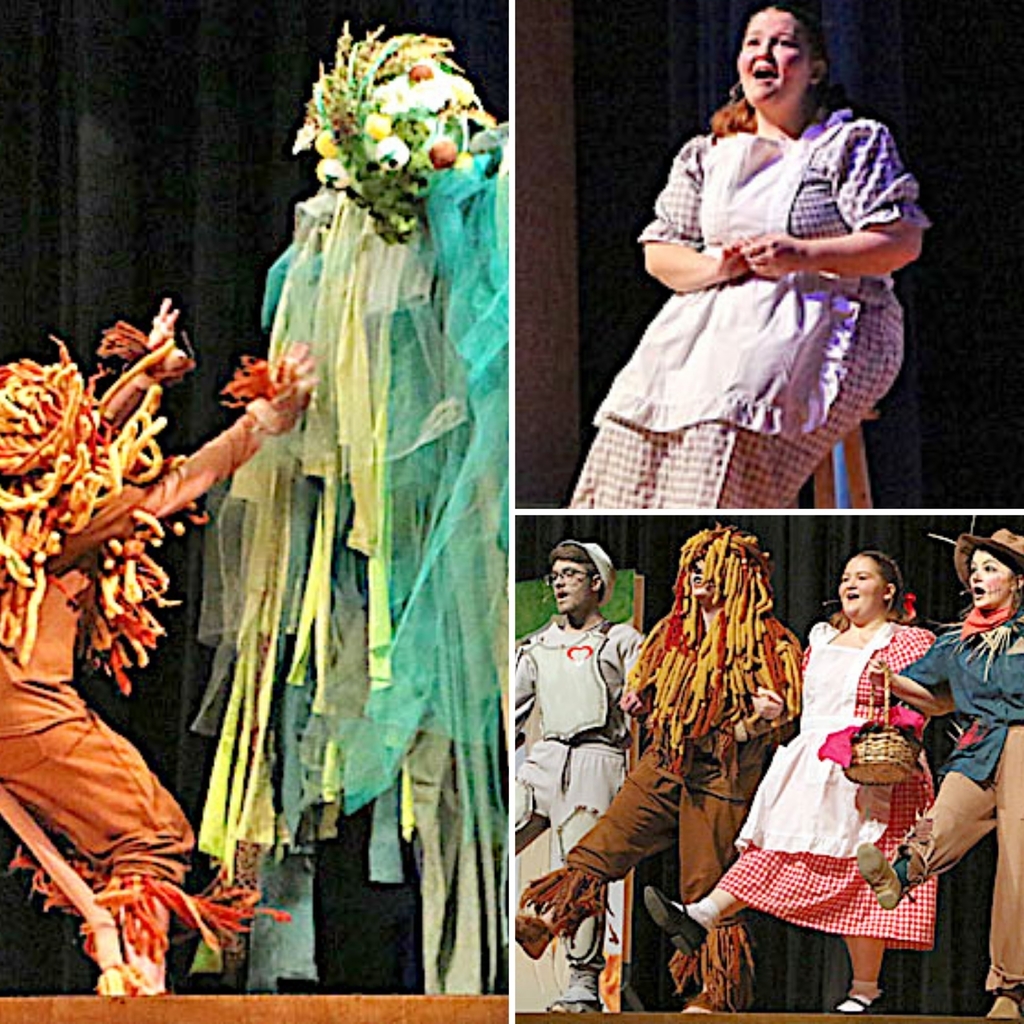 Big congrats to WG Senior CTE stand out student and Tyrone Volunteer Fireman, Domonic Craven, for being recognized as an "Every Day Hero" at WGHS for his heroic efforts to support a fellow student in need! Domonic makes #WGProud